Adriatica - the best nudist region in the world !!! Back to paradise...
Why was a man expeled from the paradise? Can we change the flow of history?
On clay tablets of ancient Sumer and later in Old Testament - there is a story about expeling Adam and Eve from the paradise. Briefly - Adam and Eve have taken apple from forbiden "tree of good and evil" ( a snake have persuaded Eve to do so ). That have caused their expeling from paradise and percieving of their nakedness.
There are also other details - but it's really fuzzily - why nakedness has caused such a dramatic move of the God...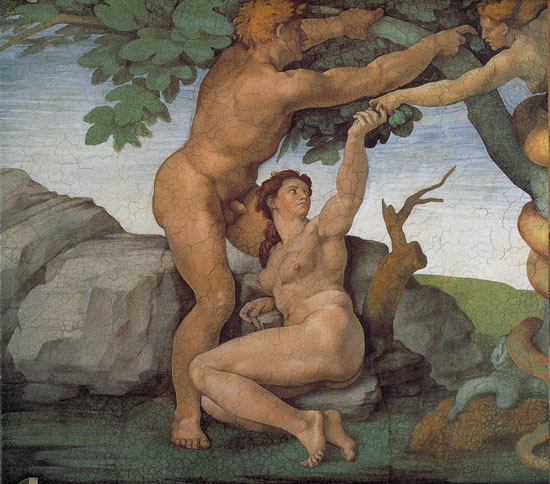 However - can we ask - if a man brakes his shame of naked body - will we probably return to "paradise"? The God has made a man after His image - until a man has tried forbiden apple, it was normal to be naked.
Hence - there is no reason to be ashamed of our naked body - to the contrary, it is totaly normal.
This is exactly the story that you will hear from people at the Adriatic Sea. They have recognized useless shame of our naked bodies.
Therefore - more and more people at the Adriatic Sea are naked on beaches. Many foreign tourists hesitate to accept such a behavior at the beginning - but soon they recognize its practicality. It is very easy - easier can not be... Just take off everything and don't even think of it...
What feeling is it to be naked? Excelent - you feel that you are totaly merged with nature, free from all worries and taboos...
You feel completely relaxed - all problems are forgotten, wiped away...
Probably will humans wear clothes for a long time to come - but for sure - in regions where the climate allows, they will be more and more free to be naked in public. We can be sure for Adriatica beaches.
For a long time already - it is fully normal that women don't wear a bra ( topless ) - on all beaches in Adriatica.
First nudist beaches apeared a long time ago in Adriatica ( i.e. Koversada in Istria ) - first in Europe. Beaches, hotels, camps and all amenities are well organized and equiped. A lot of cultural and sport events are organized, miss nudism contest etc...
Adriatic local comunities organize parts of beaches for nudists. There are nudist beaches along the coast, many of them on hundreds of Croatian islands.
We can expect that by the time - it will not be important at all - to be naked or dressed. As nudism becames a normal way of behavior - it spreads also to other European countries.
From that point of view - Adriatica represents "a light" for all other European nations, still captured in the darkness of misunderstood history...
Just imagine - how many articles have been written about some famous person captured on some photo naked or half-naked...? Why? Because we've seen some part of his/her body - that has been made by God...?!?
Stupid !!! Hence - nudism is normal - its becoming a normal way of behavior in Adriatica - despite some faked moralists and preachers worldwide...
Indeed - spending your time in nature naked - is making you a better person, more close to the nature, relaxed physically and spiritually... Naked bathing is also much more healthy. When you are dressed and you come out of the water - your swimsuite is wet. If there is a wind - you can catch a cold, your genital organs or kidneys can get sick etc... If you are naked - just brush yourself with a towel and you are fully dry...
Let's swimm together in beautiful Adriatic Sea - free of all constrains, with open heart, together with our close relatives - dolphins... Cheers !!!
(...naturism in Croatia - internet site...)
---
---
---